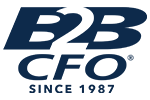 What other professionals say about Andrew
As the CEO of Sipcam Agro, I have worked with Andrew for 5 years. During that time Andrew has shown to be resourceful, a faciliatory of corporate objectives, capable of original thinking, strongly skilled financial manager and a strategic partner.
Stefano Della Torre
CEO
Sipcam Agro USA, Inc.
Andrew's deep experience in managing all facets of an organization's financial management requirements makes him an excellent partner. He provided valued guidance and direction which reflected well on his organization and developed meaningful credibility. Andrew is a consummate professional that clearly values and desires to develop collaborative partnerships while also exercising sound decision making and maintaining a pro-active management focus.
C. Reggie Claus
Relationship Manager
Wells Fargo Capital Finance
Get Your own complimentary* Discovery Analysis™ from B2B CFO®
*Complimentary for qualified business owners