The key focus of our Entrepreneurial CFO® Services involves analyzing the organizational structures of privately held companies and working within the company to recognize functions that interfere with company growth. One of the tools utilized while providing Entrepreneurial CFO® Services is the information in our book, The Danger Zone, which illustrates the "unofficial organization chart" of a company as follows: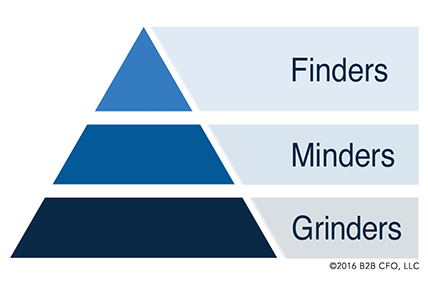 Our book, Avoiding The Danger Zone, Business Illusions, defines each of these categories as follows (p.29):

Finder: The entrepreneur, the visionary, the leader, the idea generator and the catalyst for future change. Finders work in the future.

Minder: The administrative, accounting and operational staff of the company. Minders live in the past.

Grinder: The people who do the physical work of the company to produce its goods or services. Grinders may be construction workers in the field or telemarketers at a desk. Grinders work for today and are not concerned about the company's future or the past.

An interesting process happens when a company's sales, employees and complexities grow. The Finder is often involuntarily pulled into becoming a Minder or Grinder.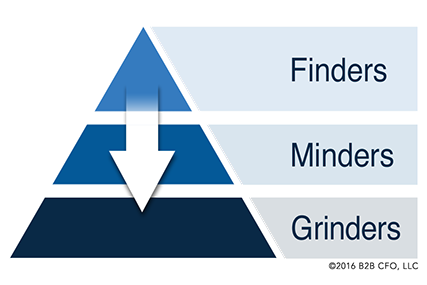 The Finder then spends too much time in Minding and Grinding activities. This has the effect of taking the Finder away from their key responsibilities. This also puts the Finder into a position of doing things they disdain.

We have never found a Finder who enjoys doing Minding or Grinding activities.

They do not get into business to do Minding and Grinding duties, such as managing cash, meeting with administrative staff, hiring and firing employees, meetings with bankers, reviewing erroneous or meaningless reports, fixing computer problems, meetings with attorneys, collecting past-due receivables, time with governmental or regulatory issues, etc.

Our Entrepreneurial CFO® Services utilize our unique talent, tools and processes created to reverse the process of a Finder becoming a Minder, as is illustrated below.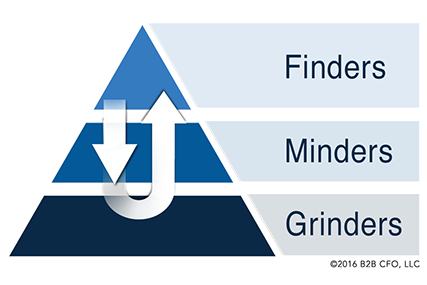 Our goal, and one of the goals of our Entrepreneurial CFO® Services, is to work with business owners to allow them to get back to what they enjoy - growing the business and being creative.

We also like assisting business owners to take time off from the business to enjoy life.

Our goal is to work with business owners to keep them out of The Danger Zone. We have the proven talent, tools and processes to assist business owners with their needs.

Our firm was established in 1987. Each partner in our firm averages about 25 years of experience. Collectively, we have about 7,000 combined years of CFO experience.

A company may receive a complimentary Discovery Analysis™ by submitting a request at www.b2bcfo.com/discovery-analysis.html.

We would enjoy meeting you and will give you a complimentary industry benchmark report. You can see a sample of the report at www.b2bcfo.com/industry-comparative-report.html. It is highly likely you will know more about your company than you know today after receiving our complimentary Discovery Analysis™.

All three of our books can be purchased on the Store button of our website, www.b2bcfo.com.

First Direction, Then Velocity® was awarded to our firm by the United States Patent and Trademark office on July 17, 2012 (Reg. No.4,216,280).