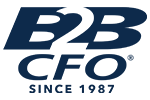 Employee Fraud Prevention
Posted on March 29, 2020 by Gene Wilhoite
Employee fraud is a problem that statistically increases in tough economic environments. Despite the economic environment though, fraud is always lurching in the back-office background, even in good times. All business owners and managers like to think they can successfully vet out honest and skilled employees. The majority of the employees we hire are in this category, but people change with time. Financial, medical and emotional traumas can turn an honest staff accountant into an individual that channels his organizational skills and internal understanding of a successful business into his/her personal ATM. B2BCFO woks closely with a number of fraud prevention groups. Among these is the Association for Certified Fraud Examiners (ACFE). All of the indicators shared by groups like ACFE unfortunately point to significant increases in employee fraud over the past 2 years.
Small businesses are more likely to become the victims of fraud than larger businesses. According to the Association for Certified Fraud Examiners (ACFE) 2008 Report to the Nation on Occupational Fraud and Abuse, ACFE cites that the smallest organizations, 100 employees or fewer, suffered higher median losses than did the largest organizations (10,000 employees or more). While the largest companies suffered losses of $97,000 on average, small businesses' losses averaged $127,500 based on its survey, which was conducted between April 2007 and February 2008.
Considering the potential losses, it behooves small-business owners to make the prevention of fraud a priority in their businesses. Though no business owner wants to feel it employees unscrupulous people, sometimes temptation or personal financial pressures can push even the hardest working, most trusted employee into perpetrating fraud.
The first step in preventing employee fraud is letting employees know you're watching for it. "Perception of detection is a very powerful deterrent," says John Gill, a certified fraud examiner and general council and director of self-study publications for the ACFE.
Second, hire the right employees. Conduct background checks for people handling inventory and money. Check past employment, criminal convictions, references, and education and certifications. Also, conduct drug screening since often, according to Gill, employees will steal from a business to support an addiction. Remember, however, to always get the written consent of candidates before doing research since many federal and state laws govern the gathering of such information.
Third, maintain strong internal controls. Have checks and balances in place. For example, you don't want a signatory on the bank account balancing the check book. If I can write checks on the account and I reconcile the bank book, I'm free to manipulate the check register.
Fourth, make sure expenditures are approved. For every expense, have a manager and someone in accounting approve it. The supervisor will ensure that the expenses are valid, while accounting will run the math.
Fifth, monitor cash situations. In a retail situation, Gill suggests having security cameras monitor activity at registers and storage areas where inventory is kept. "People are less likely to do it if someone is watching them," he says. Conduct surprise audits. Catching an employee off guard could be your best bet in discovering fraud.
This is a simple overview. I personally have supported firms in both the preventive and evidence collection phases of employee fraud management, and I much prefer the former. Please give this topic strong consideration and truly look hard at your prevention. If you have additional questions or concerns about fraud in your workplace feel free to contact me by phone or e-mail.

Get Your own complimentary* Discovery Analysis™ from B2B CFO®
*Complimentary for qualified business owners