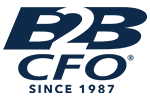 Cash. We Help You Get It.
Posted on June 10, 2020 by Grant Brisacher
Last week I finalized an IT Equipment loan for approximately $180k for one of my professional service clients with a local community bank in San Diego. I was able to help them secure a favorable loan and interest rate and in comparison to some leasing options, we will end up saving a significant amount of interest over the term of the loan compared to leasing. Not only that, but the owners of the business will also benefit from a Section 179 deduction for income taxes.
In addition to the Equipment Loan, I was also able to secure a $300,000 line of credit for my client. Despite the uncertainties in the market due to the global financial crisis, banks particularly community banks, are still interested in profitable and supportable transactions.
As a B2BCFO®, we pride ourselves on helping clients navigate the process of obtaining lines of credit and term loans. We provide the banks and other lending institutions with confidence and we develop business cases to show how our client's cash flow can support lines of credit and term loans.
Cash. We Help You Get It.®

Get Your own complimentary* Discovery Analysis™ from B2B CFO®
*Complimentary for qualified business owners