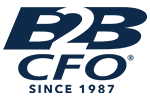 Posted on June 10, 2020 by Grant Brisacher
Most business owners want to increase sales. Our goal is to assist in that area.
Business owners can usually increase sales significantly if they are allowed to spend time in what we at B2B CFO® call "Finding Activities." Finding activities are those events that allow an owner to be a visionary, idea generator and a catalyst for change. These activities usually allow an owner to spend time building relationships and ideas to bring future sales into the company.
We are seasoned at assisting a company improve its infrastructure to allow an owner to escape from many of the administrative and operating activities to be able to spend more time in finding activities. Typically, a significant increase in sales results from this effort.
As a seasoned executive, B2B CFO®s can help business owners and CEO's increase sales in a multitude of ways.
First, we work with Business Owners or CEO's to gain an understanding of their business and how increasing sales aligns with the overall strategic objectives of their company. Once we have a clear picture of where the company has been and where it is heading, then we are better suited to help the Business Owner or CEO identify sales-increasing sales ideas or sales opportunities. Also, different industries face different challenges when increasing sales.
Naturally when a Business Owner or CEO is looking for increased sales, the first question from a seasoned CFO will be, "do we understand the benefits and costs" of increasing sales on the company's infrastructure and working capital? Second, will increasing sales result in better margins and increase the Company's profitability? Third, what are the "barriers to entry" when looking at increasing sales in a different product or sales channel? Fourth, how much of the Business Owner's or CEO's time will be devoted to increasing sales? Fifth, does the company have adequate production capabilities or service personnel to absorb increased sales?.
In addition to the above strategic and tactical questions, the Business Owner or CEO should understand how the increased sales will impact the company and what additional time and resources will be required. The company should perform a thorough product or resource cost matrix to determine how prices or rates will be set in order to ensure there is an appropriate margin and profitability for increasing sales.
The bottom line is that any Business Owner or CEO should carefully evaluate the organizational and business risks of increasing sales. Engaging a seasoned executive such as a B2B CFO® will greatly enhance your success of increasing sales and allowing you to engage more time in "Finding Activities" and less time in "Minding Activities".

Get Your own complimentary* Discovery Analysis™ from B2B CFO®
*Complimentary for qualified business owners