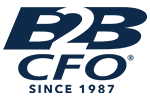 What other professionals say about Grant
Grant has proven to be a valuable resource for our firm and for many of our firm's clients. His insight, judgement, technical ability and candor has made the difference in many financial and management decisions we have made. I highly recommend B2B CFO and Grant Brisacher.
Larry Murrill
Managing Partner
Murrill, Eakes & Company, CPA's
Grant has been invaluable to Envision Financial Systems, Inc.
Joy Barnes
Business Manager
Envision Financial Systems, Inc.
Grant was instrumental in helping us secure our first substantial banking relationship and line of credit to enable our business growth. He provides reporting, analysis and advice to keep us on track towards our business and financial objectives. He manages our banking and CPA relationships and has been instrumental in increasing our vendor credit limits substantially as well. Grant has enabled and facilitated merger and acquisition discussion with potential acquirers.
Ken Hughes
President
T.V. Ears, Inc.
We are grateful for the model that B2B CFO® has developed because it gives us access to someone of Grant's caliber where it wouldn't otherwise be feasible. He is fun to work with and has easily become an integral part of our team. He invests in understanding our business and our people so that he can insert himself where he will make the biggest impact on our bottom line. Since Grant has been working with us we have a more meaningful understanding our financial statements and are able to make better strategic decisions for the future. His business acumen, pro-active leadership, and financial expertise make him a trusted adviser and mentor.
Amy Carr
Executive Vice President, HR and Co-Owner
Red Door Interactive
Get Your own complimentary* Discovery Analysis™ from B2B CFO®
*Complimentary for qualified business owners