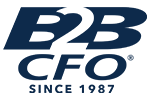 B2B CFO's Record Growth Surpasses 200 Partners
Posted on June 14, 2020 by Jerry Mills
PHOENIX—November 1, 2011 – (BUSINESS WIRE)–B2B CFO's record growth is pushing the firm to become the world's largest CFO services company with more than 200 Partners across 39 states and more than 800 clients across North America. B2B CFO surpassed the 200 Partner mark in September of 2011. Corresponding with the pace of the growth, the company today announced a planned expansion of its award-winning in-house digital media team.
Jerry L. Mills, Founder and Chief Executive Officer of B2B CFO, said: "We have entered a very exciting time for B2B CFO. As we further drive our growth, we must focus on streamlining our operations and ensuring the consistency of our brand. Great people have always been the key to our success and I am so pleased to keep growing our Partnership as well as expanding our in-house capabilities."
In 2010, B2B CFO created an in-house digital media team to take the firm's interactive marketing and digital presence to the next level. To meet the growth and continue elevating individual Partner experience, the firm is expanding is adding Andrew Freeman and Dale Mills as well as two administrative support positions.
"2011 has been a huge year for us," added Mr. Mills. "Not only did we surpass the goal of 200 Partners, which puts us in the forefront of our industry, we also created six full-time in-house positions within the company, expanded our team and we were recognized with top national honors for our continued growth and contributions to the economy."
B2B CFO's success echoes loudly in the national accolades received this year. The company made the prestigious Inc. 5000 list for two consecutive years as well as the ACE Corporate Growth Awards, which recognizes the top 25 most successful and fastest growing private companies in Arizona. B2B CFO was also named as the Free Enterprise Honoree by the US Chamber of Commerce and Jerry L. Mills was recognized as one of the top 100 Small Business Influencers in North America.
"I've often said that we are an overnight success that's been 25 years in the making," said Mr. Mills. "But my vision for the company has always been ambitious and we will continue to see further growth each year ahead."
Mr. Mills founded the company in Phoenix, Ariz. in 1987. He established the company with a determined philosophy to put integrity, ethics, and the needs of small businesses above all.
The philosophy proved to be successful and by the 1990s, the firm expanded presence into the Southwest. In early 2005 the company had gained national prominence following expansions in its service portfolio and geographic coverage. In 2008, B2B CFO first moved into an aggressive growth period doubling the number of partners and increasing revenue by 70 percent. The company has maintained that fast growth momentum and is on set trajectory to continue that growth in the years ahead.
As of October 2011, B2B CFO has grown to 208 partners in 39 states with nearly 6000 years of cumulative experience. Each Partner is a seasoned financial executive dedicated to improving cash flow for growing businesses.  Together, B2B CFO Partners work with more than 800 businesses in the nation with combined annual sales of more than $4 billion.