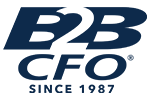 Posted on March 28, 2020 by Joseph Worth
A company can never have too much cash!
A company can, however, easily run out of cash and get into The Danger Zone, as explained in the book written by Jerry Mills, the Founder of our firm, B2B CFO®. The process of protecting, generating and maximizing cash can be broken down into three phases – Past, Present and Future.
This is the first in a series of three articles to get you thinking about cash and how to get it!
Past
You must protect the cash your business has accumulated to date. In order to do this, you should be thinking about and more importantly, acting on:
•  Risk management:  What are the major systemic sources of risk for your company? Some are obvious and insurance is used to protect us from them. Are your plans all adequate and up-to-date? What risks are not insured? These may be strategic and long-term in nature.
•  Fraud prevention:  This may be as simple as asking, "Who's watching the Controller?" Is there an independent senior financial executive reviewing the financial results and transaction every month? Are there simple systems in place to ensure separation of duties in all cash handling and accounting processes? Are critical employees required to take annual vacations? More complex processes in larger companies may benefit from a formal fraud prevention assessment.
•  IT systems security:  Are your computer systems up-to-date in both hardware and software? Do they fail regularly causing loss of productivity or worse, loss of data? Are you budgeting for and purchasing regular hardware and software updates and upgrades? Are all files backed up daily and off-site on a regular basis? Are you protected from outside or inside attacks or data loss?
•  Disaster recovery – backups, offsite alternate, etc.:  In addition to day-to-day IT security, how would your business survive in the event of a fire, hurricane or national security event? Many businesses not in Lower Manhattan were damaged or lost after 9/11. Are your disaster recovery plans tested regularly?
•  Cash management:  Are your cash reserves invested safely with maximum returns? Have you forecast your cash flows to know when you may need funds from your investments?
•  Tax planning:  Have you consulted with competent tax advisors to make sure you won't be sending too much to Uncle Sam, both on an annual basis and when your business exit arrives? Have you been surprised on April 15th?
Now that we have examined some of the ways to make sure you protect your hard-earned cash, in future installments we will look at ways to maximize current cash flow in then present and maximize the value of your business in the future.