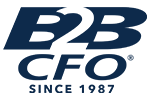 To Get A Business Loan Know How The Bank Thinks
Posted on March 28, 2020 by Joseph Worth
In a recent blog post, Scott Medintz of The New York Times said, "Small-business owners should cultivate a relationship with a local banker — ideally, long before they need a loan — and treat that relationship as a long-term partnership."
This is excellent advice! Most business owners know that, second only to "Cash is King," the most important rule of business is, "Borrow money when you don't need it." Having a relationship with your local banker is an excellent way to position yourself and your business to do so.
So what do you do if you haven't done this? Many small business owners treat bankers like the enemy, rather than a friend. How do you get started? One way is through your B2B CFO®. As senior financial executives with an average of over 25 years experience, they have arranged countless loans and lines of credit. They have the expertise to gather and present the information the way a banker likes and needs to have it. They can help you get your financial house in order, not only from a record keeping and financial statement perspective, but also actually getting much better sales, gross margins, profits and especially cash flow. It's that cash flow to which the banker looks for repayment!
As an example, earlier in my career, I helped start-up a de novo community bank in rural Ohio. Working with the prospective bank president, we developed the business plan and financial projections, wrote the charter application, got approved, published the prospectus, sold the stock, bought a piece of land, built a building, hired the staff and opened the bank. I served on their Board of Directors for years before moving from the area. It was one of the most heart warming and satisfying experiences of my business career, as that small community really needed a local bank! But the point is, when I meet with a banker, I know what the banker's thinking. What that means to my client is that they don't have to guess or try to figure it out. I'm there for them.
In addition, I already have relationships with many local bankers. I can help decide which bank or banks you should know and make the introductions. This frees you up to work on growing your business!