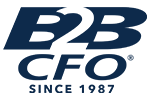 What other professionals say about Joseph
What can I say, I scored an American hero. Great mix of pragmatism and focus along with empathy – I'd want Joe in my foxhole any day.
Jeff Lichtenstein
CEO
Gourmet Guru Inc.
Joe Worth is a superb financial professional. Responsive, insightful, reliable, experienced and dedicated to helping us take our company to the next level. We couldn't be happier about our affiliation with B2BCFO and look forward to a long and successful relationship with Joe and B2BCFO.
Kitty Kolding
CEO
House Party Inc.
Excellent help in assisting new CFO adjust to his job and advising CEO on evaluating the capabilities of the new CFO.
Eric Rackow M.D.
CEO
I've known Joe since he became a charter member of the Financial Executives Networking Group (FENG) chapter in Ocean/Monmouth, New Jersey. He has been a loyal and valuable member of the chapter, always ready to assist other members. Unlike most FENG members, he continued to attend meetings and be of assistance even when he was "between searches." When he joined B2B CFO® he volunteered to become chapter Co-Chair, in which capacity he still ably serves. Joe has been a tremendous asset in doubling the size of our chapter by upgrading the level of speakers and programs we provide for our membership.
Joe is a highly experienced CFO who provides real value to businesses in our community. He is also very active in the Lakewood Chamber of Commerce (of which I'm President this year) and the Monmouth Ocean Development Council. He has a broad and deep network and is always quick to refer mutual friends who can use each other's help.
Jim Farrell
Chief Financial Officer
When we found ourselves in a potentially crippling financial crisis and searching for answers, a friend introduced to me to B2B CFO® Partner Joseph Worth. Not knowing this man from a hole in the wall, he immediately jumped to our aid providing us with a proposal outlining several different scenarios that would help our situation.
His financial advice, professionalism , and understanding of our problem was far superior than anything we could have expected. Thank You, Joe!
James I McKay
Partner
Contractors Sheet Metal