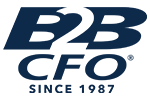 Bringing a diverse background, Len provides proven leadership with a practical hands-on approach. With nearly 20 years of banking experience, largely in the commercial and SBA lending arena, 7+ years as a CFO and President of a NH and MN Based manufacturing company, founder of a startup business, as well as years of consulting one-on-one with business founders and owners, Len has walked in the shoes of owners and understands the daily challenges and opportunities they face... SEE MORE
If we work together, I promise that I will always put your interests first, and that in a year or less, we will reduce your stress about cash flow, your business will be running better, and we will be eliminating the barriers to your company's success.
Begin with a Discovery Analysis
Agree on a Strategic GamePlan
Begin to excel and see results
Let's get in touch and start the discussion!
Get Your own complimentary* Discovery Analysis™ from B2B CFO®
*Complimentary for qualified business owners