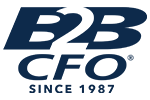 What other professionals say about Malinda
If your small company needs a great CFO, but you can't justify the cost of a full time big -league star, I have the answer: I'm a huge fan of Mindy Passmore CPA. She is with B2B CFO, a Management Advisory Firm.
As we grow our company to the next level, we realized we needed better accounting systems and controls, and I was introduced to Mindy.
She's brought incredible skill and value, and is now an important part of our team as we go forward. I'm just so excited that after 1 day per week x 3 weeks, we can see the way forward on finances and accounting, and I wish I had found her 4 years ago.
She's teaching us how to do this stuff correctly in-house, not just doing it for us. After she gets my folks trained, she'll primary provide oversight and guidance and advice, like any good CFO!
John Plemons
Frac Sand Logistics
Get Your own complimentary* Discovery Analysis™ from B2B CFO®
*Complimentary for qualified business owners