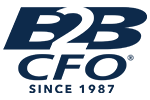 Almost Every Business Is Required To Have An Emergency Plan
Posted on March 9, 2020 by Peter Aronstam
If you have to ask this question: "Does my company need an Emergency Action Plan?", then you may be at a high risk for being non-compliant with OSHA rules!
According to OSHA:
Almost every business is required to have an emergency action plan (EAP).
If fire extinguishers are required or provided in your workplace, and if anyone will be evacuating during a fire or other emergency, then OSHA's 29 CFR 1910.157 requires you to have an EAP.
There are some exceptions to this, but determining exactly when an EAP is required is complex and daunting to most employers.  Even companies with EAPs in place may not have plans that meet OSHA's ever-increasing requirements.
This is where your B2B CFO® and law firm can help. The lawyers in particular can provide detailed assistance with preparation of the EAP, as well as implementation and training.
If you don't have an EAP, or if you have not had your plan reviewed by someone fully experienced with OSHA requirements, contact us or your law firm for assistance.
Thanks to Legal Solutions Group for this information.

Get Your own complimentary* Discovery Analysis™ from B2B CFO®
*Complimentary for qualified business owners