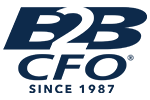 Exiting Your Business Part 1
Posted on March 9, 2020 by Peter Aronstam
As a B2B CFO® partner, I support not only my clients' entire organization, but also the clients themselves.  Most of those clients are the business owners – the ones whose vision established their businesses and whose hard work grew them to their present state.  Many of those clients are Baby Boomers, starting to think about how they will get out of their businesses, and looking for new challenges as they move on to the next stages in their lives.  Yet, as they continue to work very full days in their companies, how many of them have time to plan how they will get to retirement and financial independence when they do retire?  And even if they do have the time, how many of them are overwhelmed by the idea of succession and exit planning?
That is where a B2B CFO®  can help.  "Finding the Exit"™, as we call business exit planning at B2B CFO®, is assuming an increasingly important role in the services we provide to our clients.
When I meet with business owners to talk about what B2B CFO® can do for them, I always ask them if they had a business plan when they launched their companies.  All will say "yes".  Some had a written plan, others a well thought out idea what it was they wanted to accomplish and how.  But in all cases there was a plan, which may have been modified many times along the way; but a plan nonetheless.

I then ask what happened to that initial plan.  In most cases it was changed – sometimes frequently.  In the course of growing their businesses, owners had to make many changes to adapt to new markets and competition.
I will then ask them if they have an estate plan – what they expect to do with their assets when or before they die.  Again, in most cases I find that the owners have thought out this aspect of their futures, and that of their families.  A large majority will have consulted with trusted advisors – lawyers, accountants, insurance planners – to develop and implement an estate plan to take care of their families.
I next ask if their businesses constitute the biggest asset in their estate.  I get the same answer – the majority have most of their wealth tied up in their businesses.  It provides most of what they and their families live on, and what they expect to live on when they retire.  Very few have the good fortune to have enough wealth outside their businesses to continue to maintain their existing lifestyles.
"Is the business liquid?"  "No".
"Do you know what the business is worth if you were to exit it today"?  Most of the owners do not have a realistic sense of value.
"As part of your overall estate plan or future plans in general, do you have a formal plan to exit the business and thereby obtain what you and your family may need to live on for the rest of your lives?"  Very rarely.
Should we be surprised by these answers?  Yes; particularly when statistics show that:
More than 60% of businesses will change ownership over the next ten years 40% of North American Small and Medium size business owners hope to exit their businesses within 5 years
60% of business owners between the ages of 55-64 have not discussed their exit plans with their spouses or business partners
Typically, only one in three will survive transition to a second generation. Of those that survive, approximately one-half will survive the transition to a third generation. 90% of family owned businesses never pass to the third generation
What should business owners be doing?  If they plan to exit their businesses and convert their equity into liquid assets, they must prepare for that conversion at every step along the way. From the very inception of the businesses, owners should be building value and equity by creating unique products, services, relationships and distribution channels, building an intellectual property portfolio and expanding their customer bases. The sad fact, however, is that many business owners don't have these goals in mind as they run their businesses.   As a result, many business relationships will not have happy endings.  This, despite the fact that owners will have spent on average more than 80,000 hours building their business before they exit. Why?  Because owners fail properly to plan for the exit and retirement.
In a series of articles on exit planning that I will write in future newsletters, I will cover the steps that all business owners who plan to exit their companies in the next  five years should be taking now to customize their exits.  The earlier they start to plan, the more likely they will get what they want out of the exit.  The better prepared they are, the more likely they are to reach their goals.
What steps will future articles cover?
Planning the exit – what are the specific goals or dreams that the owner wishes to attain?
Assessing "exit readiness" – is the owner ready to  let go, financially and mentally?
Choosing the optimal exit strategy –  based on the exit readiness assessment.
The value of exit strategies – where there is more than one possibility.
Executing the plan – forming the team and closing the transaction.

Get Your own complimentary* Discovery Analysis™ from B2B CFO®
*Complimentary for qualified business owners