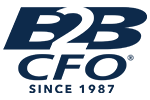 The Importance Of Forecasting & Planning When Running A Business
Posted on March 9, 2020 by Peter Aronstam
AS A BUSINESS OWNER, DO YOU REGULARLY SET UP AND REVIEW ANNUAL OPERATING PLANS AND BUDGETS?
If you do not, read about my recent experience with a client who is now using budgets set up by his B2B CFO®.
A call last week with a potential client got me thinking about how important it is to run a company using a forecast that contains both operating metrics and financial targets. The call came because the company's banker was concerned by the company's very rapid sales growth. In January 2011 alone, sales of a major product line exceeded sales for the same product for all of 2010. The client had been successful at year-end in landing two very large new customers, each of which had placed significant orders at the end of last year. All parts of the business were being stretched to meet this new demand. A high-grade issue for most businesses, you might think, but also a legitimate case for banker concern.
Why was the banker so concerned that it had threatened to pull its line of credit? High growth rates in a business can easily translate into a major cash squeeze. If the business owner does not have a close eye on the overall financial landscape, and does not run a forecast or anticipate exactly how various growth scenarios will affect inventories, receivables and payables (the 3 key elements of working capital), the business can very easily become over-extended and run out of cash. Without adequate preparation, the owner won't have sufficient information to avoid such a situation.
In November and December 2010 this client had to place large orders for inventory to sell to the new customers, had to pay for the inventory on receipt, but could only collect from his customers 45 days after they had received the goods. He was potentially facing a 75 – 90 day lag between cash outlay for the goods and being paid by his customers. What did that mean for cash flows? Were there other receivables that would cover the gap? Could the owner push payment terms out to some of his vendors to cover the gap? He simply did not know, because no one in his company could give him a cash flow projection or analyze the variables. He had no plan to deal with a cash squeeze and he was ill prepared to explain to his bankers why he might need more working capital, and how he would repay from surplus cash flows later in the year. In the end, he had to cover the shortfall from his personal funds.
A B2B CFO® understands the cash-flow and operational ramifications of growth. He also understands that a budget and updated forecasts are essential to manage the growth. The creation of a budget itself with a business owner gets the owner to focus on the key business elements that drive cash and profitability. Regular monitoring of performance and achievements against budgets and forecasts ensures that the owner always regularly reviews financial performance with the B2B CFO® and understands what was reviewed. Surprises are kept to a minimum; and the owner now has financial tools to deal with unforeseen events. Had my potential client been using a cash and operating forecast, he would have been able to demonstrate to the bank that the cash outflow was under control, and that there would be funds to repay a draw under the line of credit.
"Cash. We Help You Get It"™ is a registered B2B CFO® trademark. It's also how we manage every client that we work with.

Get Your own complimentary* Discovery Analysis™ from B2B CFO®
*Complimentary for qualified business owners