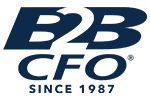 What other professionals say about Ron
As entrepreneurs in the ever competitive Mediterranean food industry and as new small business owners, we reached out to Ron Jacobs from B2BCFO to perform a thorough evaluation of our business. We were so impressed with the level of expertise and professionalism with which he conducted and explained his evaluation. His insights not only helped us understand our strengths and areas of improvement, but also laid out the Plan for years to come. Our partnership with Ron is making a valuable difference every day and is helping us stride forward with confidence.
Sawsan Abublan
Founder and CEO
S.I.T.E Investments , LLC dba Shawarma Press
I have known, and worked with Ron for over 20 years at two different companies. His capabilities as a CFO have always been at the highest caliber. Ron has an attention to detail and accuracy that is above his peers. He is intelligent with the capability to understand complicated topics, and the ability focus on the points that matter the most. I have watched him lead through prosperity, and challenging times, with calm that is required in the moment. He can mitigate the challenging personalities, and viewpoints, that exist in all organizations where all sides feel that they where victorious. These traits are not always common with individuals at other organizations.
Ron is a man of integrity, very loyal, and has an enjoyable personality. He is the same person whether at work, socially, or in a conversation as a friend.
Michael K. Parks
Managing Director/COO Financial Services
Higginbotham & Associates
I am a commercial loan officer and have been in banking for over thirty years now. I manage one of the larger and more complex portfolios for Branch Bank & Trust in North Texas.
I have worked with Ron for over five years, first at Citi Bank in Las Colinas and then at BB&T in Dallas. Ron is well versed in many different areas of the company beyond the financials and can speak to how different areas performance affects the overall company. I wish my entire portfolio had CFO's as competent, passionate, and trustworthy as Ron.
Finally, I would say Ron is an effective advocate when representing the company and/or its owners. I wish him well and will gladly endorse him as a capable executive manager for a large company.
Brad Timberlake
Vice President
Branch Banking and Trust Company
Get Your own complimentary* Discovery Analysis™ from B2B CFO®
*Complimentary for qualified business owners