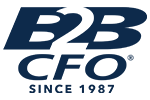 B2B CFO® Ensure Future Financial Goals Are Met
Posted on June 21, 2020 by Marvin Garland
As your business grows and achieves higher levels of success, your financial needs will often expand. Where business growth is always a positive, your company's ability to properly facilitate finances may exceed your current knowledge. B2B CFO® possesses the expertise to assist you with financial services, allowing business owners to flourish in their own specialties.
B2B CFO®, the largest CFO company in the United States, has been around for over 30 years, and each CFO partner has at least 25 years of experience. This level of experience alone sets this company apart from most firms. The majority of partners have owned their own businesses and been on the decision-making side of a business, giving them a unique point of view on managing business functions to include, sales, human relations, operations, accounting and more.
Companies typically seek our assistance when they realize they need more financial expertise than what's being received from their bookkeeper or CPA. Common questions from owner's and CEO's include: why is it that the company is profitable but never seems to have enough cash for operations; how much inventory can we afford to purchase, why are profit margins decreasing, how do we get a larger line of credit and much more. Companies need more information than what the typical financial statements are providing.
"When we work with the owner or CEO, we innately know what's going on from experience and are able to take the initiative in providing knowledge and guidance on what would be the best solution for each business" said Marvin Garland, partner at B2B CFO®. Our network of 200 partners, all specializing in a variety of industries, is a tremendous resource for clients.
The Partners of B2B CFO® help owners by providing financial guidance to achieve their goals, which consists of increasing cash flow and profits, increasing growth and sales, and improving operations. One critical step that makes us different is taking the time to listen and understand what the Owner/CEO wants to accomplish. Solutions are developed specific to their business situation. We then utilize our unique processes that may include a cost/volume profit analysis, job cost analysis or build a cash forecast to support the solution.
Another difference is that partners perform all the work in the client's office allowing them to work alongside each owner. Where CPAs tend to be more transaction based, such as providing a tax return or audit, CFOs are future focused ensuring goals are met and exceeded.
While the services do cost, B2B CFO®, believes that every company deserves access to a seasoned CFO by providing an affordable experience. B2B CFO®, offers a free analysis and does not require a contract. They want each company to consider hiring a CFO as an investment that will create value.
"In all that we do, we want to ensure that businesses experience a peace of mind concerning their financials," said Garland. "We want to give owners the confidence to understand their company and achieve their goals. We are here to be the trusted advisor they rely on to guide them in the right direction."
Partner B2B CFO®
Tallahassee Office (850) 933-6537  |  www.marvingarlandcfo.com  |  www.b2bcfo.com