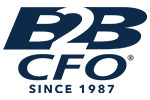 Your Company's Health And Your CFO
Posted on March 29, 2020 by Danny Windsor
In a column in Business Week, Jack and Suzy Welch were asked, "[W]hich three measurements give the best sense of a company's health?"  Although measurements may vary depending on the industry, the Welchs' response was, "If you're running a business, though, whether it's a corner store or a multi-product multinational, we would say there are three key indicators that really work: employee engagement, customer satisfaction, and cash flow.  They get right to the guts of a company's overall performance, now and in the future." (Welch, 2006).
In light of these three indicators, how valuable is a CFO in maintaining a company's health?  Consider the following:
Employee Engagement
Employees become engaged when they understand the mission, direction, and strategic goals of the company and how these functions are vital in achieving their goals.  One of the best ways to accomplish this understanding is to involve the employees in the preparation of a three to five year Business/Strategic Plan.  The Chief Financial Officer often drives this planning process especially as the plan sets out the financial goals and metrics that need to be attained to move the company to its ideal future.  Furthermore, the CFO helps employees envision this ideal, and assists in developing incentive rewards that are linked to the achievement of the plan.  This involvement keeps employees tuned in to the day to day success and failures of the business.
Customer Satisfaction
In their response the Welchs' indicated that one of the best ways to measure and ensure happy customers is to spend time with them, making visits and asking, "What can we do better?"  The only way to spend more time with customers is to spend less time "in" one's own business.  Customer attention can only be accomplished when a solid company infrastructure is in place which "frees" the business owner to dedicate time to the customer.  An experienced CFO can develop and oversee the necessary infrastructure (i.e. the proper computer hardware/software, employee engagement as already noted, strong internal controls and operating procedures/processes) that supports the growth of the business and gives it a solid foundation.
Cash Flow
Cash does not lie.  Either a business has the cash resources to operate or it does not.  There is no middle ground.  The CFO implements the internal controls that not only measures cash efficiency, but maximizes the cash available to operate and grow the business.  The CFO develops cash projections that enable the company to look into the future and proactively prepare for the inevitable cash shortages that will occur.
A B2B CFO is ready to work with you to maintain your company's health.
Welch, Jack and Suzy. (2006), BusinessWeek (May 8 p. 126).