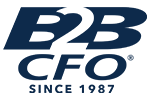 B2B CFO Featured In WSJ's Complete Small Business Guidebook
Posted on March 19, 2020 by Jerry Mills
B2B CFO, the only CFO services firm featured in the book, quoted in Chapter 9 "Handling Your Company's Finances"
Phoenix, Ariz. (BUSINESS WIRE) DATE—The Wall Street Journal's Complete Small Business Guidebook, published on Dec. 29th 2009 by Random House is quickly climbing the charts of most popular reads. B2B CFO, the nation's largest CFO firm that exclusively services the needs of small and mid-size businesses, was featured along with other leading national resources in the 258-page book.
Author Colleen DeBaise, who currently serves as small business editor at The Wall Street Journal, turned to B2B CFO for insight on cash flow strategy for her chapter on "Handling Your Company's Finances." In this chapter, DeBaise discussed cash flow projections and operational finances and included a sample chart frequently used by B2B CFO Partners that outlines how to prepare and what to do to survive budget deficits.
DeBaise pulled from key experts in the nation to bring together best practices when starting a small business. "From writing business plans to creating exit strategies, we pulled advice from key experts to bring our readers a comprehensive resource," said DeBaise.
"Being included in this high-profile resource for entrepreneurs was a great way to round up 2009 for our firm," said Jerry L. Mills. In January 2010, B2B CFO has grown to 146 Partners across 39 states. Each Partner is a seasoned financial executive who serves as CFO to growing businesses on as-needed basis. Together, B2B CFO Partners work with more than 500 businesses in the nation with combined annual sales of more than $5 billion. Now in its 22nd year, B2B CFO has experienced steady growth and emerged as the leading resource providing CFO solutions to small and mid-market companies.
Serving as CFOs to hundreds of clients, the B2B CFO Partners know first-hand the challenges that business owners face when it comes to operational finances.
"Small and mid-size business owners regularly turn to B2B CFO's Partners for advice on finance and cash flow," Mills said. "Cash is the bloodline of a business, and having a firm grip on your company's finances is the key to growth."
Mills and many of the B2B CFO Partners regularly dedicate time to educate business owners on financial matters. Mills is a frequent speaker and contributor and has been featured on many national media networks including FOX Business, Fortune Small Business, Smart Money and many others. Mills is also the author of The Danger Zone – Lost in the Growth Transition, and Avoiding The Danger Zone – Business Illusions, both business non-fiction books that help entrepreneurs understand and build a strong financial strategy.
"We're excited to be featured in the Wall Street Journal's Complete Small Business Handbook and to continue helping entrepreneurs turn their dreams into sustainable, growth-oriented companies," added Mills.
The Wall Street Journal's Complete Small Business Guidebook is listed at $15 and is available online at www.amazon.com. It is also available as an eBook, formatted for mobile devices.