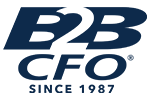 Top 25 Fastest Growing Companies
Posted on March 19, 2020 by Jerry Mills
B2B CFO RANKS AMONG THE TOP 25 ARIZONA'S FASTEST GROWING PRIVATE COMPANIES
High Growth Earns B2B CFO Spot in the 2010 Arizona Corporate Excellence Awards
Phoenix, Ariz. September 20, 2010 — B2B CFO, nation's largest provider of CFO services to emerging and mid-size businesses was honored in the ACE, Arizona Corporate Excellence Awards for its fast growth.
Now in its 16th year, the Arizona Corporate Excellence Awards is an annual celebration of private businesses that are thriving in Arizona. In order to be considered for the awards, Arizona-based companies had to apply and agree to have their financials reviewed by independent accounting partners. Companies that made the ACE Fastest Growing list are ranked using a formal that considers revenue growth and other factors.
B2B CFO came in 22nd on the list of top 25 fastest growing companies in the state.
"We are honored to be included in the list of fastest growing businesses headquartered in Arizona," said Jerry L. Mills, founder and chief executive officer of B2B CFO. "Our firm is expanding nationally across all major markets and growing at record pace. With this momentum, we look forward to a similar growth pattern in the coming years."
Among the top 25 fastest growing companies were: American Traffic Solutions, Sprouts Farmers Markets, NextCare Urgent care, Lifelock Inc. and GoDaddy. The awards ceremony took place on September 16th at the JW Marriott Desert Ridge Resort in Phoenix. B2B CFO's Phoenix based Partners joined Jerry L. Mills for the awards ceremony.
B2B CFO's growth is reflected in numerous awards this year. The firm made the prestigious Inc. 5000 list, ranking 84th in its industry category. Jerry L. Mills will be attending the Inc. 5000 conference in Washington D.C. in October of this year.
In September 2010, B2B CFO has grown to 174 Partners across 39 states, representing 5,000+ years of cumulative experience. Each Partner is a seasoned financial executive who serves as CFO to growing businesses on an as-needed basis. Approximately 80% of the Partners have a background that includes senior executive positions at the Big Four, and all of the Partners have held high level executive finance positions in various industries in corporate America. Together, B2B CFO Partners work with more than 500 businesses in the nation with combined annual sales of more than $3 Billion.
Jerry L. Mills and many of the B2B CFO Partners regularly dedicate time to educate business owners on financial matters. Mills is a frequent speaker and contributor and has been featured on many national media networks including FOX Business, Fortune Small Business, Smart Money and many others. Mills is also the author of The Danger Zone – Lost in the Growth Transition, and Avoiding The Danger Zone – Business Illusions, both business non-fiction books that help entrepreneurs understand and build a strong financial strategy.
ABOUT B2B CFO
Headquartered in Phoenix, Ariz., the firm was founded in 1987 by Jerry L. Mills. B2B CFO is the nation's largest CFO firm serving entrepreneurial, growth and mid-market companies with revenue under $75 million. The firm's partners have an average of 25 years of experience and each individual partner is a senior level executive with a broad range of expertise. Please visit online at www.b2bcfo.com