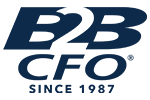 What other professionals say about Jim
I used Jim as my 'part time' CFO for 2 years during which time he turned my company around to a high level of profitability and facilitated a successful sale to a large private equity firm.  The due diligence process was lengthy and intense but Jim made it easy, handling most of the heavy lifting with the same sense of urgency that I had as a CEO.  Jim's professionalism and responsiveness were exceptional and his ethics are unwavering.
Jeff Salisbury
Ex-Owner & CEO
Label Impressions, Inc.