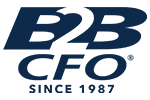 What other professionals say about Brian
June 30, 2010
Dear Future Clients of B2B CFO,
Brian Christian was extremely professional and helpful to us in gaining an understanding of the profitability drivers in our business:
· He re-structured our income statement in order to highlight the variable and fixed nature of our costs and how they impact our profitability.
· He forecasted our income statement and balance sheet for all of 2010 (our first ever), which we were able to present to our bank in order to pro-actively secure much needed working capital financing in advance of the highest revenue month in the history of our company.
· Doing this and more in a caring fashion he is truly dedicated to the success of your company.
I would not hesitate to recommend Brian to another business owner.
Dan Cartledge
Owner
Wisconsin Expo, Inc.
I am happy to recommend Brian Christian. Two years ago our small business was facing some financial challenges and Brian was able to work with us to identify the source of the problems and implement a simple solution to our challenges. He was also able to work with our bankers to refinance our loans to ease the financial pressures we were facing at the time. Brian was responsive, approachable and very fair. I had the real sense that he felt like he was part of our team in that our success was his success.
Mike Pownall
DVM
McKee-Pownall Equine Services