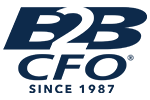 What other professionals say about John
John's a great guy, very knowledgeable and has been exceptionally helpful to me and my business.
Martin Svendson
President
Svendson Investments
John has been extremely helpful in achieving a better understanding of business finance. He has also been helpful with dealings with the bank and other financial matters.
Geoff Skinner
Owner
Thunder Racing Inc.
John has straightened out the accounting mess that has existed for 15 years in our small business. We now have a set of financials that we can really use to analyze the performance of our business.
Tyler Winner
President
Winner Institute Inc.
Having John on board not only gave me confidence, but I have also seen a dramatic improvement of our processes as well as an incredible boost in our cash flow. My only regret is not having found John sooner!
BIAR Sampling Systems
Get Your own complimentary* Discovery Analysis™ from B2B CFO®
*Complimentary for qualified business owners