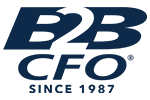 What other professionals say about Mark
Hiring Mark was the smartest business decision I have ever made. Mark has helped me make solid business and financial decisions that have kept this company moving forward and gaining profitability. He is always available for advice and input whenever a situation arises (which is often). Mark is my most trusted business 'partner' who is constantly looking out for the best interest of me and my company. That level of professionalism, loyalty, and expertise is invaluable to me. Thank you, Mark!
Amy Graver
President & Creative Director
Elements LLC
In his capacity as a b2b CFO Mark has worked for more than 3yrs with my company. Over that time he has provided valuable input and direction for not only the finance group, but the organization as a whole. He is calm and methodical and I value the contribution he made to Jaguar which is now stronger due to his involvement.
Simon M. Kaye
CEO
Jaguar Freight Services
Mark acted as our outsourced CFO for a number of years and provided not only the financial reporting and oversight that was required, but also strategic direction combined with an "outside in" perspective which was invaluable. Mark was instrumental in helping us turn the business around and his cool, calm and level headed approach ensured we were set on a path for growth, success and profits! I would have no hesitation in recommending Mark.
Jaguar Freight Services