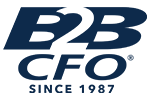 Steve is a financial professional with over 36 years of experience helping Companies grow and prosper. He has a talent for identifying and understanding the issues that inhibit a Company's growth. By utilizing our tools and processes, Steve will work with you to gain clarity around your Company's current financial status and develop long-term goals that align with your needs. .. SEE MORE
If we work together, I promise that I will always put your interests first, and that in a year or less, we will reduce your stress about cash flow, your business will be running better, and we will be eliminating the barriers to your company's success.
Begin with a Discovery Analysis
Agree on a Strategic GamePlan
Begin to excel and see results
What Happens if We Don't Move Forward?
Your company value will not grow and your cash flow will not be what you want it to be. You won't be able to achieve your goals. Grim picture!
Get Your own complimentary* Discovery Analysis™ from B2B CFO®
*Complimentary for qualified business owners