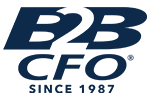 What other professionals say about John
Hi John,
I signed all the papers tonight and we're all done. They're sending the initial wire transfer in the morning……
I just wanted to thank you for your help and guidance throughout this process. Obviously it's a pretty big deal for my life and career, and I really appreciate your walking with me as I've gone through it. In my humble opinion you're very good at this. I'm very glad you were a part of my Advisory Board and very glad that I had you to work with. I firmly believe God places important people in your path at the right times in your life, and you certainly qualify as one of those people for me.
Thanks so much for all your help!
Best Regards,
Dave Holt, President/Owner
GPServ, Inc
I have worked with John and B2BCFO for over 6 years on several business sale transactions of various sized businesses. I am an Investment Banker at a national firm that sells businesses and provides consulting. Assignments I have worked on with John have ranged from early planning where we are assisting with strategic planning to help the business grow profitably and ways to increase business valuation which may include obtaining bank financing. Other assignments have included preparing a business for sale, looking for funding from Private Equity Groups and finally several business sale processes.
In all aspects of the consulting, fund raising and sales processes, John has been instrumental in working with the business owners to gather information, prepare analyses and lead the review of the Company's financial information. John's in-depth financial understand of the businesses and financial presentation materials are the basis of how successfully transactions are completed for Clients.
I call John for difficult financial questions I encounter and would seek his financial understanding as well as his financial work product for my important Clients. I have grown to trust and rely upon John's work and financial guidance.
Roy D. Sutton, Senior M&A Advisor
Woodbridge International